Turkey announced the "neutralization" of at least 63 Syrian military over the past day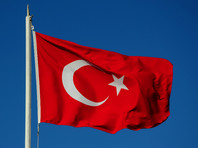 Turkish forces neutralized at least 63 Syrian troops in Idlib over the past 24 hours, Turkish media reported Friday quoting the Turkish Ministry of Defense. Ankara uses the term "neutralization" when it comes to those who surrendered, captured or killed, said Interfax.
Last week, in the Syrian province of Idlib, Turkey attacks the Syrian forces in the region in response to the shelling of Turkish observation posts at which Ankara accuses Damascus.
Turkish President Recep Tayyip Erdogan said that, according to recent reports, as a result of the actions of the Syrian army in the region, 14 Turkish soldiers were killed and another 45 were injured. Ankara also accuses Syrian troops of attacks on peaceful targets.
Earlier this week, Erdogan warned that if Turkish troops stationed in observation posts in the region, or anyone else in Syria would suffer from the actions of Damascus again, Turkey "will not adhere to the Sochi agreement and will strike at government forces anywhere " He also demanded that Damascus withdraw troops from the Idlib zone by the end of February.