The United States imposed sanctions against three Russian enterprises for helping Syria, Iran and the DPRK to create weapons of mass destruction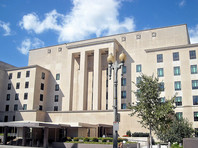 The US State Department imposed sanctions against three Russian enterprises manufacturing military products. They are suspected of violating US legislation on the non-proliferation of weapons of mass destruction against Iran, North Korea and Syria. This was reported in a document published in the US Federal Register.
We are talking about the Kumertau Aviation Production Enterprise in Bashkiria, the military-industrial corporation Scientific and Production Association of Mechanical Engineering and the Instrument Design Bureau named after Academician A. G. Shipunov in Tula.
The law implies a ban on the transfer to these countries of technologies that contribute to the creation of nuclear, chemical and bacteriological weapons. In addition, Russian enterprises assisted the military of the three listed states in creating cruise and ballistic missiles.
The list of sanctions also included several Chinese and Turkish companies and one Iraqi organization. Sanctions began on February 3.
In May 2019, the U.S. Department of State imposed sanctions on several businesses for violating the same law. Under the sanctions then fell the training center of anti-aircraft missile forces in Gatchina and the Moscow Avangard machine-building plant.
The Tula KBP is adding the State Department to the list for the second time: in May 2019, the Foreign Ministry made a mistake in its name, designating it as "Instrument Design Bureau," notes The Insider.
In Moscow, the sanctions called "a surge of Russophobia"
The Russian Embassy in the United States on Thursday called Washington's imposition of sanctions against three Russian organizations "another surge of Russophobia." According to the diplomatic mission, this step of the US authorities represents an attempt to "ensure narrow-market interests in the international market of defense technologies."
"They again witnessed US efforts to unwind the sanctions spiral against Russia. <...> We see in this approach another surge of Russophobia, as well as an attempt to ensure narrow market interests in the international defense technology market, "the Russian embassy commented on this decision by the US authorities. The statement was published on the diplomatic mission's Facebook page.
Russian diplomats believe that US officials have exceeded their authority. "We would like to remind our colleagues in Washington that only the UN Security Council has the right to apply restrictions on such subjects. And for this we need good reason. The administration again did not provide any official evidence," TASS quoted the Russian embassy.