Pyotr Pavlensky promises to continue publishing dirt on the intimate life of French politicians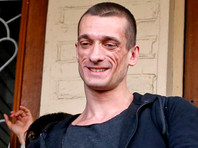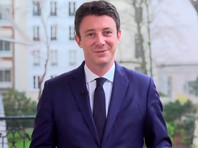 The artist-actionist Pyotr Pavlensky, who moved to France from Russia, promised to continue publishing incriminating evidence about the intimate life of French political figures, Interfax reports.
"Benjamin Grivo is the first person to get to my site. However, he just opened. And we will continue," he said on the air of BMF TV.
We are talking about the Pornopolitique website, on which Pavlensky published a video and photos of an intimate nature this week, which, he claims, depicts Grivo.
According to Pavlensky, a French politician sent these photos and videos to an unknown girl. In correspondence with her, he draws a parallel between family and prison. In the commentary that accompanies the publication of intimate materials, Pavlensky accuses the politician of publicly defending family values ​​in hypocrisy.
As of Friday evening, the Pornopolitique website is not accessible to users in at least Russia and Europe, including France.
At the same time, French journalists had questions about who created this site. According to open data, the site appeared about two months ago and, according to the IP address, was created in Mountain View (California, USA). However, as stated in the reports, this does not mean that the person who launched the site is actually a resident of California, since this data is easy to fake.
For his part, Pavlensky's lawyer Juan Branco explained to BMF TV that his client decided to publish this kind of material as part of the struggle against the power system established in France by President Emmanuel Macron.
The French media emphasize that publishing such materials in France is a criminal offense, the punishment for which is two years in prison and a fine of 60 thousand euros.
Grivo has already said that he intends to sue one or those who posted information on his personal life in the public domain.
Earlier on Friday, it was reported that Grivault, who was considered one of the main contenders for the post of mayor of Paris, a nominee from the Forward, Republic party of President Macron, withdrew because of this publication. The politician called it a "vile attack."
French municipal elections will be held March 15 and 22.
On Friday evening, French media reported that the French judicial authorities are investigating an incident involving an emigrant shareholder that occurred on the night of January 1, 2020 in Paris, according to reports.
According to the information received by the investigators, during the party there was a quarrel between Pavlensky and a group of people. As a result, according to eyewitnesses, the actionist artist grabbed a kitchen knife and began to threaten their offenders. Two people were stabbed. Pavlensky also did not come out of the conflict unharmed – he was hit with a bottle on the head.
At the same time, according to media reports, according to the version of Pavlensky's supporters, he armed himself with a knife, because he was alone against about a dozen people, and then threw him to the ground without injuring anyone.
The newspaper Le Figaro notes that this party was attended, in particular, Pavlensky's lawyer Juan Branco. But the interests of the artist in this case are protected by his other lawyer, Marie-Alix Canyu. She refused to comment to the press.