Greenpeace activists arrested in Houston staging rally on bridge over shipping canal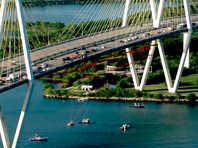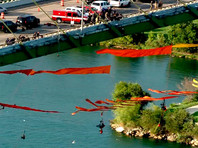 Greenpeace activists who staged a rally on a bridge across the Houston shipping canal have been arrested, TASS reports citing the Houston Chronicle.
About a dozen people went down the ropes from the span of the Fred Hartman Bridge and deployed multi-colored pennants as part of an action aimed at attracting the attention of participants in the televised debates in Houston of candidates for the United States Democratic Party in the 2020 elections to environmental issues.
As a result of the rally, the movement of vessels along the channel was suspended, the local sheriff's office reported.
Houston sheriff Ed Gonzalez told the publication that the duty officers raised all the protesters to the bridge, after which arrests were made. Greenpeace spokeswoman Valentina Stackle said that arrestees will be charged soon.
The Fred Hartman Bridge, over 4 km long, is one of the longest suspension bridges in Texas. It was built over a canal through which oil tankers go from the port of Houston to the Gulf of Mexico. In March 2014, when two vessels collided, about 700 tons of oil fell into the canal.